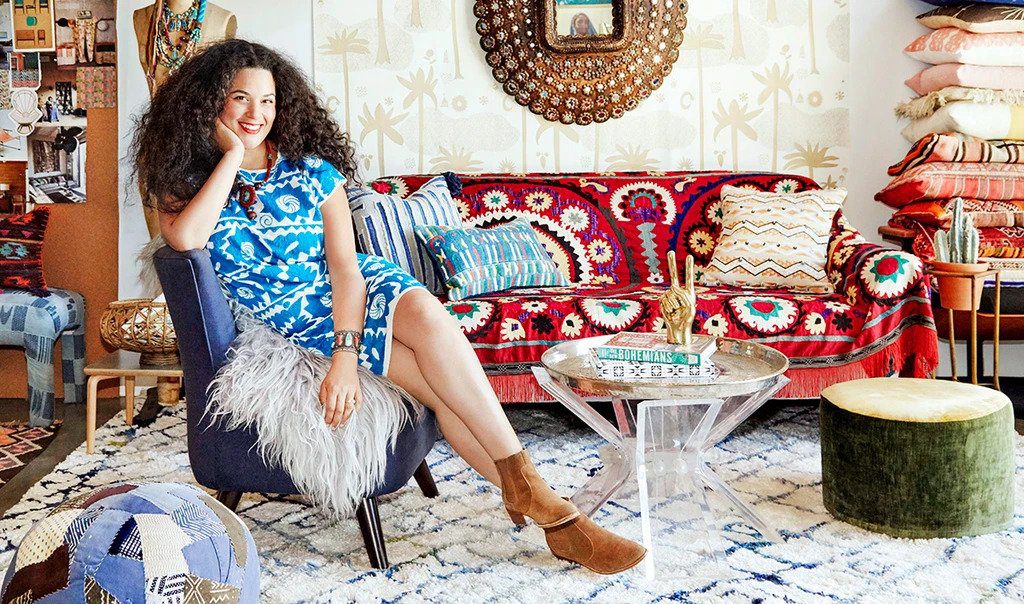 Photo by Jungalow via Jungalow
Justina Blakeney is an entrepreneur, artist, mother, author, and designer extraordinaire, among other things. Her name might sound familiar to you, as she is the Founder of Jungalow, the widely known home and lifestyle brand born in 2009. You may also recognize Justina from her New York Times bestseller, The New Bohemians, or from one of her many collaborations with companies and brands such as Target, the Band-Aid brand, Anthropologie, Home Depot, and many others. With their whimsical bohemian patterns and saturated hues, Jungalow is the perfect place to shop on Black Friday for furniture, art, decor, and accessories. But be warned, shopping here will give you inspirational vibes and a possible urge to perform some major home makeovers.
Established in 2009, Jungalow began as a creative design blog and later blossomed into the wildly popular LA lifestyle brand that we know today. Jungalow's popularity is no doubt attributed to Justina's beautifully diverse multi-racial and multi-cultural upbringing. Justina identifies as multi-racial, being of Afro-American, Native American, and Eastern European descent. It is clear that the topic of diversity and identity is of great significance to her and her family, as she states in one of her previous blogs: "One thing that's clear to me about identity (perhaps the only thing that's clear about it) is that it's not something that one is born with — it's a potion comprised of roots, culture, language, family, friends, sub-culture, context and it's a fluid construct, that is ever-evolving." It's easy to see that her diversity and life experiences shine naturally throughout every one of her chromatic, bohemian designs.

Photo by Jungalow via Jungalow
There are many reasons to shop and support Jungalow on Black Friday. Not only are their creations and designs strikingly eye-popping, but the company itself is making a massive impact by giving back to many communities in multiple ways. Every purchase made results in at least two trees planted in Africa via the non-profit, "Trees for the Future," which supports farming families. Jungalow is making huge strides toward sustainability in part with their shipping solutions. As noted on Jungalow's website, your order may arrive in a pre-loved box, and the company is working to completely eliminate their use of styrofoam and plastics by the year 2022. Finally, through portions of their sales, Jungalow provides generous donations to several non-profit organizations, including the ACLU, The Southern Poverty Law Center, Black Girls Who Code, the Refugee and Immigrant Center for Education, and more. Not only does supporting Jungalow help to empower the Black community as a whole, but it also helps other communities and organizations around the world grow and thrive as well. Consider shopping and sharing the beauty of Jungalow this Black Friday with your family and friends so we can continue to support our growing Black-owned communities.
Recommend a Black-Owned Business
Do you have a favorite Black-owned business that you would like to recommend to us? We're always looking for new places, products, and services to feature on our blog. Submit your favorite here.