---
---
All You Need To Know About Ethiopian Food
The African country of Ethiopia is found in the Horn of Africa; it is quite well known for its authentic African cuisine.  Ethiopians view meal times as social encounters. Most meals are served as communal platters and shared with family and friends. In Ethiopia, it is seen as an act of love to scoop up a bite of food and feed it to your loved one or friend.  Cultural Ethiopian cuisine is very flavorsome and has gained interest from culinary enthusiasts the world over.
What is Ethiopian Culture Food? 
Traditional Ethiopian meals typically consist of vegetable and meat dishes that are quite spicy. The most commonly served meal in Ethiopia is "Wat", which is a thick stew served with a flat sourdough bread called "Injera". In fact, this is considered the national dish of Ethiopia. The people of Ethiopia eat with their right hands and use the Injera to scoop up bites from the main dish and to add side dishes to it too.
How can I make Ethiopian Food? 
While there will be plenty of opportunities to enjoy Ethiopian food when visiting the country, if you want to make yourself a few Ethiopian treats at home, you might try one of the simpler dishes.  For the sake of this post, we will cover a brief recipe on the most popular dish of Doro Wat and Injera.
Doro Wat & Injera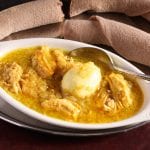 What you will need for the Doro Wat:
3 pounds boneless chicken breasts cut into cubes (you can substitute it with veggies)
2 chopped onions
4 cloves minced garlic
1 cup red wine
2 cups water
2 teaspoons salt
1 teaspoon ground cardamon
2 tablespoons garam masala
2 tablespoons paprika
1 tablespoon crushed red pepper
2 tablespoons fenugreek seeds
1 tablespoon dried thyme
3 tablespoons tomato paste
1 tablespoon sugar
1 juiced lime
What you will need for the Injera:
3 cups cake flour
1 cup buckwheat flour
2 tablespoons baking soda
1 teaspoon salt
4 cups club soda
1 cup white or rice vinegar
Oil
Directions to Make the Doro Wat Dish
The Doro Wat dish is very simple to prepare, just follow these easy steps:
Slowly cook all the Doro Wat ingredients for 4 to 6 hours in a covered pot – do not include the lime yet.
The chicken must be soft and tender.
Once cooked, mash the chicken with a potato masher.
Stir in the lime juice.
Directions to Make the Injera
To make the Injera is just as simple. These are the basic steps:
Mix both types of flour, salt and baking soda together in a large bowl.
Whisk in the club soda until the mixture is smooth.
Then add the vinegar and mix a bit more. You will note that a type of batter is formed.
It is now time to cook your pancake-like pieces of flatbread. These are the basic steps:
Wipe a skillet with the oil.
Heat the skillet over a medium heat.
Scoop the batter into the skillet and create a circle while carefully swirling the pan to help form the round pancake-like pieces of bread.
Cook for one minute and flip the cooking batter as you would a pancake.
Repeat until all the batter is used.
Remember, Injera must be slightly crispy, as it will soften on standing.
Cut the Injera in half with a pizza cutter, roll into tubes and stack on top of each other.
Serve with your Doro Wat.
Is Ethiopian Food Healthy? 
Whether you live in Ethiopia or whether you are traveling to the country for a holiday, you are bound to be interested in the nutritional value or health ranking of the meals that you will eat. Ethiopian food is considered healthy, as meals are typically low in fat and nutrient-rich. Authentic Ethiopian meals will not only be nutritious, they will also offer a deep, rich flavor that you will not find anywhere else in the world.
The Injera, which is gluten-free, contains around 379 calories per serving. The grain used in the making of Injera is high in fiber and a good source of protein, iron and calcium.
Can you Eat Ethiopian Food While Pregnant 
For many pregnant women, food cravings are the norm. What if you are visiting Ethiopia while pregnant or have a craving for your favorite Ethiopian dishes? The good news is that Ethiopian food is completely safe to eat when pregnant. Most meals are jam-packed with nutritive value and have a high fiber value too.  If you are sensitive to spicy foods, beware though, Ethiopian food can be quite spicy. You can carry some Tums or drink a glass of milk after having a spicy dish.
Ethiopian Food is Great for Everyone 
Ethiopian food is becoming increasingly popular for good reason. Hundreds, maybe even thousands, of tourists have found that their first encounter with Ethiopian food to be a taste sensation like no other. If you want to truly experience a taste of Ethiopia, try an authentic Ethiopian meal at a restaurant. Or alternatively, cook up a storm in your very own kitchen.
Have more questions on Ethiopian food? Find out everything you need to know about Ethiopian food on Demand Africa today!
---