---
---
Jabi shows us a delightful recipe for baked French Toast.
Jabi is helping her cousin mend a broken heart this week, and what better way than with three indulgent recipes they can enjoy together. This French Toast Bake is the perfect single serving sweet breakfast treat. Jabi's take on French Toast; layering the bread with spread cream cheese is irresistible! You can serve these with many different variations, but always make sure to cover in syrup fresh out of the oven. Jabi's cousin is sure to love forgetting her worries & indulging in this treat made with love.
French Toast Bake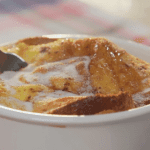 Di Ya Wela host Jabi Matsoso shows how to make a perfect and sweet French Toast bake.
6 mini loaves white bread (sliced)
150 g cream cheese
6 large eggs
1 cup cream
Sea salt and freshly ground black pepper
1⁄4 tsp cinnamon
2 tsp castor sugar
1⁄2 cup Selati syrup
Preheat the oven to 355 degrees F.
Slice the little loaves into 1 cm slices. Divide and spread the cream cheese between half the slices. Top with the remaining slices to form sandwiches.
Whisk the eggs and cream together in a bowl and season with salt and pepper. Soak the mini sandwiches in the egg mixture on both sides.
Arrange sandwiches in an ovenproof dish and pour the remaining egg and cream mixture over. Sprinkle golden brown sugar & cinnamon over top. Allow the bread to stand for 15 minutes.
Place in the oven and bake for 15 minutes.
Drizzle the maple syrup over the bread as it comes out of the oven and serve warm
---