---
---
Di Ya Wela host Jabi Matsoso shows how to make a fun, light & fluffy Aero cake.
This chocolate cake is one of Jabi's favorites for how simple it is to make. Everyone knows Jabi's where you go when you want a delicious and classic chocolate cake, and this recipe is no exception. She's got the perfect cure for her cousin's broken heart. Jabi crumbles an Aero on top of this cake along with a sprinkling of powdered sugar, but you can use your favorite chocolate bar for a unique & crunchy topping.
Aero Chocolate Cake from Di Ya Wela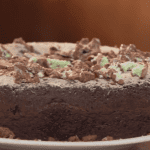 Di Ya Wela host Jabi Matsoso shows how to make a fun & easy Aero cake.
2 cups flour
3 ⁄4 cups cocoa powder
1 1 ⁄2 tsp baking powder
2 tsp baking soda
Pinch of salt
1 cup Milk
1 tps vanilla essence
2 cups sugar
1 ⁄2 cup oil
1 cup boiling water
2 eggs
1 Tbsp. Cocoa
1 Slab of Aero Chocolate
Preheat the oven to 355 degrees F.
Line two 8 inch round cake pans with butter & flour.
Sift the dry ingredients together in a large bowl.
Add the eggs, milk, oil and vanilla essence and beat with an electric mixer on low for about two minutes. Add the boiling water and mix until combined.
Pour the batter evenly into the prepared pans and bake for 30-40 minutes.
To test if the cake is ready, insert a toothpick into the middle of the pan. If it comes out clean, the cake is ready.
Slide a knife around the edge of each cake to loosen it from the pan, turn the pan over onto a metal rack
Once the cake has slightly cooled, sieve cocoa over top and add crushed pieces of aero bar on top.
---