---
---
Created to promote plant-based vegetarian and vegan diets, Plant Power Day aims to help everyday people add plant-based foods to their diets. Carnivores can keep their meat-eating habits. However, the international day of health encourages more whole food options. In honor of happy bodies, we present a recipe for Mixed Vegetable Kachoris. These crispy vegetable pockets are perfect for a light bite that feels like a sin, but are actually pro-health!
Mixed Vegetable Kachoris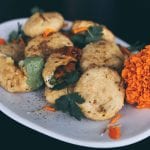 Makes 12
Ingredients:
Pastry:
1 cup flour
2.5 gr Celery Seeds
5 gr Salt
50 gr Oil
+/- 120gr Water
Mixed Vegetable Filling:
50 gr Potato (cooked and mashed)
60 gr Paneer
50 gr Carrots (blanched)
50 gr Peas (blanched)
50 gr Fine Beans (blanched)
100 gr English Baby Spinach Puree
100 gr Ghee
10 gr Ginger Garlic Puree
1 Small Green Chili (finely chopped)
½ tsp Cumin Seeds
½ tsp Cumin Powder
½ tsp Turmeric Powder
½ tsp Garma Masala
½ tsp Ground Coriander
1 tsp Fine Salt
10 gr Fresh Coriander
Method:
Pastry:
Place the flour, salt, and celery seeds into a bowl and mix well.
Make a well in the centre and add the oil.
Slowly mix the oil with the refined flour, with the help of the finger tips.
Add the water slowly and mix with the flour, making it into a semi hard smooth dough. Don't need to use all the water. Knead well.
Cover with a clean wrap and rest for 30 minutes, under room temperature.
Portion the dough into 20gr balls and roll to the side of an espresso saucer.
Filling:
In a mixing bowl add the mashed potatoes, paneer, carrots, fine beans and spinach puree.
Heat a frying pan and add the ghee and melt.
Sauté the ginger and garlic puree till light brown.
Add the cumin seeds till just about popping.
Add the rest of the spices and sauté for 20 seconds on medium heat.
Add the vegetable mix and cook until dry.
Add the salt and check seasoning.
Remove, allow to cool, and add the fresh coriander.
Making Kachoris:
Place a teaspoon fill filling onto the dough in the centre and gently bring the dough together and press flat.
Repeat until all dough and filling are used.
Deep fry till light golden and serve hot
Recipe by Vanie Padayachee
---