---
---
This week is Salt Awareness Week and if you think you're using too much salt in your cooking and to season your meals, you are probably right. The World Health Organisation recommends that our daily intake of salt should be no more than 5g per day. Here to show us how easy it actually is to cook with less salt is Amy Hopkins.
Low-Sodium Vegetable Thai Curry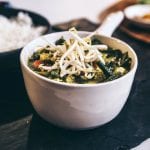 Ingredients:
Paste:
1 ½ tbsp Fresh Ginger
3 Lemon Grass Stalks (outer layer removed, chopped)
3 to 4 Large Cloves Garlic (chopped)
10 to 12 finger-length Green Chilies
Large handful Basil Leaves
2 tbsp Coconut Oil (melted)
Curry:
1 tbsp Coconut Oil
4 tbsp Green Curry Paste
180 to 200 g Green Beans (chopped)
100 g Baby Carrots (peeled and sliced)
60 g Baby Corn (sliced)
60 g Mange Tout (Snowpeas, sliced)
1 tbsp Coconut Blossom Nectar
1 tbsp Low-Sodium Soy Sauce (vital *optional)
1 tin (400ml Coconut Milk)
80 g Bean Sprouts
3/4 cup Fresh Basil Leaves
Method:
Paste:
To make the paste, blend all ingredients together in a food processor until a paste form. Place in a sealed glass jar and use throughout the week, as desired.
Curry:
Add oil to a wok placed over medium heat and add the paste, stirring until fragrant (30 seconds).
Add the beans, carrots, corn, and mange tout (snowpeas) and stir-fry for two minutes.
Add coconut blossom nectar and low-sodium soy (if using) and stir to combine.
Stir in the coconut milk and simmer for five minutes.
Stir in the bean sprouts and some fresh basil. Serve immediately with rice.
---