---
Almond and Cornflake Crusted Chicken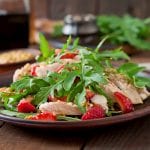 4 boneless skinless chicken breasts
1/2 cup almonds
1/2 cup cornflakes
1 large egg beaten
1 cup fresh strawberries, rinsed and stems removed for sauce
1 tablespoon sugar
1 tablespoon good quality balsamic vinegar
1 tablespoon corn flour
1/2 cup chicken stock (instant stock is perfectly good)
For the salad:
2 cups of washed Wild Rocket
8 fresh strawberries, sliced and tossed in freshly crushed black pepper
3 Tablespoon Extra Virgin Olive Oil
2 Tablespoon Lemon Juice
1 teaspoon English mustard
Preheat the oven to 180'C

In a food processor, process almonds & Cornflakes for 1-2 minutes to a chunky bread crumb consistency. Set aside.

Lightly pound chicken breast pieces. The easiest way to do this is to cover the chicken breast with plastic wrap using the smooth side of a kitchen mallet. Season Chicken Breast with Salt

Dip chicken into a bowl containing the beaten egg, followed by dipping the chicken into the almond & Cornflake mixture. Coat each chicken breast with almond & Cornflake crumbs on each side.

Heat Canola oil in non-stick pan – sauté the chicken breast – about 2 min each side – to get nice colour

Remove from pan and place on baking tray

Place is a baking tray in oven and bake chicken for 7 to 10 minutes.

For the strawberry sauce, combine the strawberries, sugar, and balsamic in a pot and using a hand blender combine the ingredients. Add Chicken Stock and some salt for seasoning. Start to heat and add cornstarch. Bring to a low boil and then reduce heat. Simmer for 5 min

For the Salad dressing – combine Olive Oil, Lemon Juice and mustard and a pinch of salt

Plate up Chicken – in slices with Side salad of Wild Rocket & Freshly sliced Peppered strawberries and splash salad dressing on Wild Rocket and finally drizzle Strawberry Glaze over the chicken.