---
---
Angostura bitters, usually added to your G & T or for Screwdriver Cocktails, is harnessed here to deepen the orangey-ness of these sticky sweet potatoes. Adapted from the inimitable Ottolenghi, the garlic-orange stickiness of this salad is tamed by dollops of crème fraiche.
Angostura Sweet Potatoes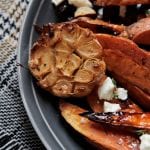 Ingredients:
6 Sweet Potatoes (scrubbed and cut into 2.5cm wide wedges)
4 Tbs Vegetable Oil
300 ml Orange Juice
50 ml Sweet Chili Sauce
½ cup Soft Brown Sugar
80 ml Red Wine Vinegar
1 ½ Tbs Angostura Bitters
2 Chilies (slit open across the centre)
15 Thyme Sprigs
2 Heads of Garlic (halved horizontally)
½ cup Crème Fraiche
1 Orange (cut into 3mm slices)
Method:
Pre-heat the oven to 220°C.
In a large mixing bowl, toss the sweet potato wedges and garlic bulbs and orange slices with the vegetable oil to coat. Lay out the wedges on a baking paper lined baking sheet, so that the wedges fit onto the sheet in a single layer. If you have too many wedges, you may need to employ a second baking sheet. Tuck the halved garlic bulbs, chilies and orange slices under the wedges and blast roast all at 220°C for 30 minutes.
Meanwhile, place the orange juice, sugar, vinegar, sweet chili sauce in a medium saucepan and bring to the boil over high heat and allow the syrup to simmer over medium-high heat for about 15 minutes. Add the chilies, thyme sprigs, bitters and olive oil as well as 1 ½ tsp salt.
Remove the partially roasted sweet potatoes from the oven and pour over the orange-chili syrup tossing lightly to coat the wedges. Return to the oven and continue roasting for a further 20 minutes.
Remove from the oven and allow to cool slightly. Arrange roasted sweet potatoes with all its bits on a serving platter and dot with crème fraiche.
---