---
Baked Hake and Spinach Curry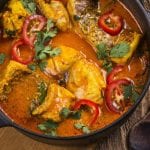 200g baby spinach
800g hake fillet, cut into 4 portions
1 lemon
Salt and pepper to taste
1 tin coconut milk
1 onion, grated
2 tomatoes finely chopped
1 tbs garlic & ginger paste
2 tbs yellow curry paste
4 tbs chopped coriander
To serve:
Steamed basmati rice
Naan breads
Fresh coriander
Lemon wedges.
Preheat the oven to 200C.

Place the spinach into an oven dish then top with the fish pieces.

Squeeze the lemon juice over the fish, then season with salt and pepper.

In a bowl, whisk together the coconut milk, grated onion, tomatoes, garlic and ginger, curry paste and coriander then season to taste with salt and pepper.

Pour curry sauce over the fish, then place into the oven and bake for 30 minutes.

Serve piping hot with basmati rice, naan breads, extra coriander and lemon wedges.