---
BBQ glazed chicken thighs with braaied baby gem lettuce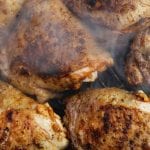 Smoked chilli flakes
Sea salt and black pepper
4 chicken thighs
1 sprig of thyme
1 garlic clove, crushed
1 litre of chicken stock
1 red onion (diced)
1 clove of garlic (chopped)
1 sprig of thyme
1 tbsp tomato paste
1 litre Clover Krush Tropical juice (reduced to 150ml)
50ml HP sauce
50ml Ketchup
50ml red wine vinegar
150ml oil (chilli or lime flavoured – optional)
4 medium sized baby gem lettuce (cut in half)
Baby coriander, to garnish
Season chicken thighs with chilli flakes salt and black pepper.

Place in a roasting tray with chicken stock, thyme and garlic.

Cook in the oven at 160 for 1 hour.

Take out of the oven and allow to cool.

In a pot, soften the red onion, garlic, thyme and tomato paste.

Deglaze with the chicken stock from the roasting tray and reduce by 2/3.

Add the tropical juice glaze, red wine vinegar, hp and ketchup and bring to the boil.

Turn down the heat and whisk in the lime oil then season with salt and pepper.

Take a seasoning tray and season your chicken and lettuce with chilli oil, salt and pepper.

Cook on the braai and brush with the BBQ glaze until the chicken is golden and the lettuce has been char grilled.

Finish with coriander cress and extra glaze!