---
Boerewors Braaibroodjie Pie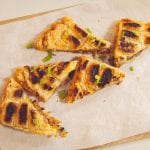 1 pk puff pastry, defrosted
1/2c tomato pesto
1/2 onion sliced, sautéed with 1 chopped garlic clove
500g boerewors, cooked, keep in its coil
2 tsp smoked paprika
Salt and pepper
1/2 cup grated cheddar
1/2 cup feta, crumbed
Olive oil for brushing
Roll puff pastry out.

Spread pesto on one-half, then top with onion and garlic mixture.

Place boerewors on top, season with salt, pepper and smoked paprika.

Top with cheeses. Fold one-half over the filling and pinch to close.

Place on a braai grid and close gently. Do not latch it. Cook over the coals for 15 minutes, turning regularly.

Cut into wedges to serve.