---
---
Jabi shows us a fun & easy Caramel Popcorn recipe.
While this popcorn is not a traditional bake, it's a sweet and easy snack that accompanies the other recipes in this episode perfectly. Jabi shows us how to make a lovely and delicious homemade caramel sauce that you can toss in the popcorn for the perfectly sweet & salty treat. Jabi finishes this treat with spun sugar. Taking your fork and quickly pulling up the remnants from the caramel sauce after pouring it, will create these beautiful decorative strands that are a great technique to know to decorate not just this recipe, but any fancy dessert you might be making. Jabi calls it "Angel Hair".
Caramel Popcorn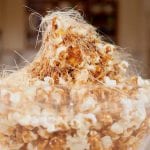 Jabi shows us a fun & easy Caramel Popcorn recipe.
3 Cups Popcorn
1 Cup Butter
2 Cups demarera Sugar
1 ⁄2 Cup Syrup
1 tps salt
1 ⁄2 tsp baking soda
1 tsp Vanilla essence
Melt butter in large pot on medium heat then the rest of the dry ingredients, syrup & vanilla essence stirring constantly. Turn off heat.
Pop popcorn & drizzle caramel over popcorn, carefully stirl to cobine.
Dip a fork in the remaining caramel mixture & lift to create decorative spun sugar.
Top popcorn with spun sugar.
---