---
Caramelized Onion Love Loaf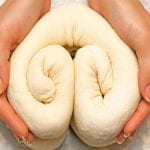 1kg white bread flour
10g packet instant yeast
2 tbsp sugar
2 tsp salt
100ml olive oil
525 ml warm water
4 tbsp olive oil
6 red onions, sliced
Pinch Salt
125ml Clover Krush grape juice
2 tbsp brown sugar
2 tbsp chopped fresh thyme
2 tsp chopped fresh oregano
125g mature cheddar, grated (or any cheese of your liking)
2 tbsp melted butter
Mix together flour, yeast, sugar and salt.

Mix in the olive oil, then add enough water to form a soft dough.

Knead until the dough is smooth and elastic (about 10 minutes by hand or 5 minutes if using a machine).

Cover and leave to rise in a warm place until doubled in size.

Heat oil, then add onions and salt then fry gently until softened and a light golden brown.

Add grape juice, sugar, thyme and oregano then simmer until the liquid completely reduces and the onions become sticky and dark – leave to cool completely.

Knock down the bread dough then roll out into a large rectangle.

Spread the cooled onions onto the dough, then sprinkle on the cheese.

Roll the dough to encase the filling and form a spiraled sausage shape, stretch the dough to make a long thin dough roll.

Cut the roll in half lengthways, leaving the one end intact, making the shape of a V.

Roll each of the arms of the "V" inwards to form a heart shape.

Cover and leave to dough to rise again until doubled.

Brush the dough with the melted butter then bake in a pre-heated 180C oven until the dough is golden and cooked through – the bread loaf should sound hollow when tapped.