---
Chakalaka Couscous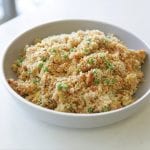 1 large yellow flesh sweet potato
1 tbsp olive oil
Salt and pepper to taste
11/2 cups dry cous cous
11/2 cups boiling water
1 can chakalaka
100g peas, blanched
Preheat oven to 180̊C

Peel and dice the sweet potato, then drizzle with olive oil and season well.

Roast in the oven until sweet potato is tender.

Place couscous into a large bowl then pour over the boiling water to cover.

Cover bowl with cling film then set aside to absorb liquid.

When cooked toss couscous has fully absorbed the liquid, use a fork to fluff it up.

Add can of chakalaka and mix in and add salt and pepper to taste.

Add sweet potato and fresh peas and toss well.