---
Chargrilled Holiday Vegetables, Pea & Mint Salad with Smokey Pepper Dressing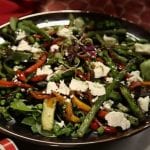 2 cups fresh peas, blanched
1/2 cup small mint leaves
2 spring onions, thinly sliced
2 baby zucchini, sliced lengthwise
1 bunch asparagus, ends trimmed
1 large yellow pepper, thickly sliced
2 oz Greek feta, crumbled
2 red peppers
2 yellow peppers
3/4 cup red wine vinegar
1 cup extra virgin olive oil
1 tsp salt
Prepare pea and mint salad first and set aside.

Blanch peas in boiling water for 1 minute, drain and refresh under cold water.

Transfer to bowl. Toss with mint and onions.

Season with salt & pepper to taste. Set aside.

Preheat braai to high.

Spray vegetables with olive oil and cook.

Season to taste.

Grill/ braai the vegetables evenly on all sides until tender, for about 5 minutes.

Transfer to serving plate and crumble feta over the top.

Dressing:

Place peppers directly onto the braai until the skin of the peppers has blackened and blistered, about 5 minutes.

Place the blackened peppers into a bowl and tightly seal with plastic wrap.

Allow the peppers to steam as they cool, about 20 minutes. Once cool, remove the skins and discard.

Transfer the roasted peppers to a blender or food processor.

Add the red wine vinegar, olive oil, and salt; blend until smooth.

Serve grilled vegetables with salad and dressing.