---
---
Jabi shows us a delicious yet simple Cheese Scone recipe.
Jabi's whole family is in town, so she will need several recipies that are easy & cheap to make. So she's showing some of her favorite bakes from easy and readily available ingredients. She starts with classic cheese scones, a perfect breakfast with jam and cream. You can customize this recipe by using whatever kind of cheese you would like, but Jabi chooses cheddar, one of her favorites, for a zing of flavor.
Cheese Scones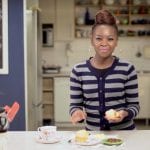 Di Ya Wela host Jabi Matsoso shows how to make easy & tasty cheese scones.
4 Cups Cake flour
4 tsp Baking Powder
2 tsp Cayenne Pepper
1 Tbs castor sugar
1 tsp Salt
2 Cups Cheese
4 Cups milk
Preheat oven to 355 degrees C.
Add all dry ingredients together and mix with a wooden spoon utill combined.
Pour in milk & mix on medium high until dough is sticky.
Finally, fold in the cheese.
Scoop into muffin pan and bake at 355 degrees F for 25 min.
---