---
---
Easy-to-follow directions help you make authentic Moroccan Chermoula Fish. 
In Morocco, Chermoula is an herb sauce that is traditionally used as a marinade with fish.  Serve with roasted cauliflower, couscous, warm bread, and rice.
For more recipes like this, download our cookbook! https://demandafrica.com/25-free-african-recipes/
Chermoula Fish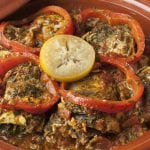 Easy-to-follow directions help you make authentic Moroccan Chermoula Fish.
3 tablespoons olive oil
4 garlic cloves (, finely chopped)
1 bunch coriander (, finely chopped)
2 tablespoons lemon juice
2 teaspoons paprika
1 teaspoons ground cumin
1 teaspoon salt
Pinch cayenne pepper (or more to taste)
Generous pinch Generous pinch saffron (optional)
4 cod fillets (or any type of meaty and flaky white fish fillets)
4 medium sized carrots (peeled and grated)
2 large potatoes (peeled, grated and drained to remove excess moisture)
3 bell peppers (seeded and chopped )
1 large preserved lemon
1 cup cherry tomatoes
Mix olive oil, garlic cloves, coriander, lemon juice, paprika, ground cumin, salt, cayenne pepper, and saffron together until smooth (feel free to use a food processor for this).
Cover the fish fillets with 1⁄2 cup of chermoula and place in the fridge to marinate.
Heat a large deep skillet over medium heat and add the carrots, potatoes and the remaining chermoula.
Stir and cover with a lid.
Leave to cook for 25 to 30 min, until the potatoes and the carrots are soft and cooked. Stir occasionally.
Meanwhile, remove the flesh from the preserved lemon, and finely chop it.
Divide the potatoes and carrot mixture into 4 equal parts and place each portion on a baking sheet. Each portion will make a small nest for the fish fillets.
Place one marinated fish fillet on top of each potatoes and carrots nest.
Top the fish with chopped bell peppers and preserved lemon and decorate with cherry tomatoes.

Drizzle some extra olive oil (optional) and cover the baking sheet with foil.

Place in the oven and bake for 12 to 17 min depending on the thickness of your fish fillets.

Serve warm with bread or brown rice.
Prep: Preheat oven to (400 F)
---