---
Chicken Salad with an Asian Twist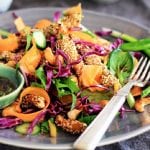 125g skinless chicken, sliced very thinly
1/2 cup sesame seeds
11/2 cup Clover Krush Apple juice
2 cm piece of ginger, peeled
1/4 deseeded red chilli
Selection of leaves (Asian-mix)
Red cabbage, very thinly sliced
Carrot, grated or peeled into ribbons with a veggie peeler
Cucumber, cubed or peeled into ribbons with a veggie peeler
Spring onions
Cashew nuts, toast lightly in a dry frying pan until golden
Vegetable oil for frying
2 tbsp Clover Krush Apple juice
1 tbsp vegetable oil
1/2 tsp grated ginger
1/8 tsp fresh red chilli, chopped
1 tsp dark soy sauce
1/2 tsp sesame oil
2 tsp white wine vinegar
1/4 tsp crushed garlic
Pinch of salt
2 tsp apple juice reduction
Pour the apple juice in a small saucepan, add the thumb of ginger and quarter chilli and boil, uncovered, until the juice has reduced to about 3 tablespoons and is thick and syrup-like.

Reserve 2 tsp of the apple juice reduction for the salad dressing.

Toss the chicken in the remainder. Remove, sprinkle lightly with salt and coat with sesame seeds.

Fry in vegetable oil until golden and cooked through. As the chicken is thinly sliced, it only takes a few minutes. (Take care not to stir the chicken or too much of the sesame seeds will come off. Fry until golden on one side and then flip over.)

Add any remaining apple reduction that you tossed the chicken in to the pan towards the end of cooking. Remove chicken and set aside.

Toss dressing ingredients together. Mix vegetables, top with chicken, scatter over cashews and serve with the dressing. To make this meal more substantial, you can wrap this salad in some soaked rice wrappers.