---
Chocolate Cherry and Pistachio Biscotti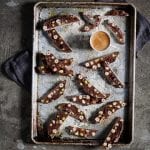 100g cake flour
40ml cocoa powder
100g Selati Castor Snow
5 ml baking powder
Pinch of salt
2 medium eggs
1 vanilla pod split and deseeded
Zest of 1 orange
100g cherries, halved and pips removed
100g toasted pistachios
Preheat the oven to 180°C. Dust a baking tray generously with flour

Sift together the dry ingredients. Make a well in the centre of the dry ingredients and add the eggs, vanilla seeds and orange zest until combined. Add the toasted nuts and cherries and using your hands knead together to form a soft biscuit dough.

Cover your hands with some cake flour and on a lightly floured surface, roll the dough into a log. Place onto the prepared baking tray and bake for 30 minutes, until firm. Remove and cool on cooling racks. Reduce the oven to 140̊c.

Using a serrated knife, slice the biscotti to your desired thickness. Place flat on the previously used baking tray and bake at for 2 – 4 hours or until the biscotti is dry and crisp.