---
Who doesn't love ice cream, chocolate, and raspberries? This decadent Chocolate Raspberry Ice Cream Cake will be sure to satisfy your fanciful trio of sweet cravings. Great for the summer or even just for your "because I'm worth it" party for one. Indulge yourself and delight your friends.
Be sure to explore and try other recipes from Expresso here. Or discover more great recipes from Africa and beyond in our full library on our blog.
Let us know how your Chocolate Raspberry Ice Cream Cake turns out. Tag us @demandafrica
Learn more about the Expresso Morning Show.
Chocolate Raspberry Ice Cream Cake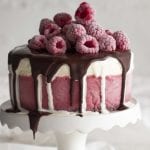 300g dark chocolate, roughly chopped
150g unsalted butter
2 tsp vanilla
150g caster sugar
3 eggs, beaten
75g plain flour
2 tbsp cocoa powder
1 tsp salt
1L raspberry sorbet, softened
1L vanilla ice cream, softened
Chocolate sauce, to decorate
Fresh raspberries, frozen, to decorate
Preheat the oven to 180C.

Line a 20cm spring form cake tin with baking paper.

Melt 200g chopped chocolate, butter and vanilla together in a heatproof bowl, set over a saucepan of barely simmering water, making sure the surface of the water does not touch the bowl. Remove from the heat and stir in the sugar, then leave to cool for a few minutes.

Beat in the eggs, then sift in the flour, cocoa and salt and fold in until the mixture is smooth and glossy. Stir in the remaining chocolate.

Pour the mixture into the prepared tin and level the top.

Bake in the oven for 25 minutes, or until the top starts to crack but the centre remains gooey.

Turn off the oven and leave the brownies inside for a further 5 minutes before removing.

Leave to cool completely in the tin. Loosen with a palette knife, clean the tin and place the brownie base back in the cake tin.

Spread over the raspberry sorbet and place in the freezer to set.

Top with softened vanilla ice cream and freeze until set.

Remove from the mould, top with chocolate sauce and decorate with raspberries.