---
Chocolate Tart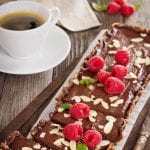 2 cups & 6 tbsp flour
Pinch salt
100g cold Butter, cut into cubes
4 tbsp castor sugar
4 – 6 tbsp ice cold water
4 tbsp cocoa powder
150ml & 4 tbsp castor sugar
3 cups milk
1 tbsp butter
In a food processor, combine 2 cups flour, salt, 4 tbsp castor sugar and butter then pulse until the mixture resembles breadcrumbs.

Add enough cold water until dough comes together – do not over-work the pastry.

Gather dough into a ball, then refrigerate for 30 minutes.

Roll dough out thinly on a floured surface, then line a fluted tart tin.

Dock, line then blind bake the pastry at 175̊C until golden brown and cooked through.

In a bowl, combine 6 tbsp flour, cocoa powder and 150ml castor sugar then whisk in enough cold milk to form a smooth paste.

Heat the remaining water in a pot, then slowly pour it into the cocoa mixture.

Return the mixture to the pot, then cook over low heat until mixture thickens.

Remove from the heat, then stir in the butter.

Pour into the baked pastry case, then leave to cool completely at room temperature before placing into a fridge to set..

Dust with extra cocoa powder before slicing and serving.