---
Clover Krush Apple Juice Sweetened Granola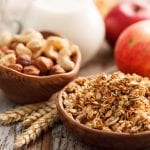 2 3/4 cups rolled oats
1 cup shelled pistachios
1 cup unsweetened coconut shavings
1/3 cup pumpkin seeds
1/2 tsp cinnamon
1 tsp salt
1 cup Clover Krush Apple Juice
1/3 cup maple syrup
1/3 cup extra virgin olive oil
3/4 cup dried apple, roughly chopped
Preheat oven to 180'c. In a large bowl, mix together the oats, pistachios, coconut, pumpkinseeds and salt.

Fold the Clover Krush Apple Juice, maple syrup and extra virgin olive oil into the mixture of oats, making sure to coat the dry ingredients well.

Line a large rimmed baking sheet with baking paper or a silicone baking mat, and spread granola over it. Bake until dry and lightly golden, 35 to 40 minutes, stirring granola a few times along the way.

Remove granola from oven, and mix into it the dried apple. Allow to cool to room temperature before transferring to a storage container.