---
Coconut Panna Cotta with Pineapple Carpaccio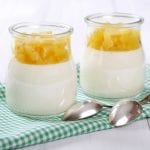 450ml cream
150ml coconut milk
120g Selati Castor Snow
1/2 vanilla pod
45ml coconut liqueur (optional)
4 leaves gelatine, soaked in cold water
125ml white wine
375ml water
90g Selati Castor Snow
1/2 vanilla pod
1/2 lemon, zest only
1 pineapple, thinly sliced
Bring the coconut milk, cream, vanilla and the sugar up to boil.

Remove from the heat and add the liqueur. Stir to dissolve the sugar.

Stir in the soaked gelatine and allow to melt.

Cool, strain and pour into moulds.

Refrigerate to set.

For the carpaccio, in a large saucepan, combine the wine, water, sugar, vanilla and lemon and bring up to the boil.

Once boiling, turn down the heat to a gentle simmer, and place the pineapple into the liquid.

Poach gently until ready ( about 2 minutes ).

Remove the pineapple from the syrup and leave to cool.

Serve the slices on a plate topped with the unmoulded panna cotta.