---
French Toast with Blueberry Compote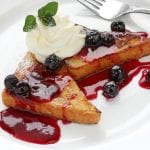 6 eggs
250ml full cream milk
Pinch salt
1 tsp ground cinnamon
1x loaf challah or kitka
2 tbsp butter
500g frozen blueberries
1/4 cup Honey
1 Tub Mascarpone to serve
Whisk together eggs, milk, salt and cinnamon.

Slice the bread thickly, then dip into the custard mixture and allow to soak slightly.

Melt butter in a large pan, then add the soaked bread and cook on a medium heat until golden on one side.

Turn over the bread and allow to brown gently on the other side.

In a pot, combine the frozen blueberries and honey, then heat gently until the blueberries begin to burst.

Serve the French toast on a wooden board, topped with the warm compote and a dollop of mascarpone.