---
Granadilla Pudding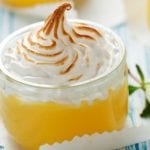 100g biscuits (Tennis, Marie or Nutti Krust)
1/3 cup Selati Demerera sugar
60g butter, melted
1 packet Lemon Jelly
250 ml cream
1 tin condensed milk
12 granadillas
90g egg white (3 egg whites)
5 tbsp Selati Castor Snow
Arrange 6 glass jars on a tray.

Put the biscuits into a zip lock bag and bash them with a wooden spoon until they are crumbed.

Pour the biscuit crumbs into a glass bowl with the Demerera sugar.

Combine the melted butter with the biscuit crumbs until you have a lovely, firm mixture.

Spoon the biscuit mixture into the glasses and pack it down. You want about 2cm of biscuit base in each glass.

For the filling, mix the jelly with half the recommended amount of water and leave it to one side to come to room temperature

While the jelly is cooling, whip the cream to soft beaks.

Once the jelly has reached room temperature, mix in the condensed milk and the granadilla pulp once this is nicely combined, fold in the whipped cream until you have a glossy, silky texture.

Using a piping bag (I find that this way makes the least mess) with a round nozzle, pipe the granadilla pudding into each glass until you have 4 – 5cm in each glass.

Place the puddings into the fridge for an hour to firm up.

For the topping, beat together the egg whites until soft peaks form. Spoon the castor sugar into the egg whites one table spoon at a time until you have meringue. Make sure that all the sugar is dissolved before you store whipping.

Once you have a beautiful, glossy meringue, either pipe or spoon big clouds of meringue onto of each pudding and use a blow torch to gratinate each one. Serve and enjoy.