---
Grilled Sirloin with Anchovy and Garlic Butter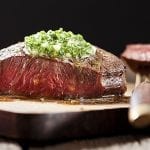 2 x 250g beef sirloin steaks
Freshly ground black pepper
Drizzle of olive oil and a knob of butter
For the butter sauce:
3 tablespoons olive oil
6 cloves of garlic, crushed
2 tablespoons chopped anchovy fillets (about 8 fillets)
4 tablespoons butter, cubed
2 tablespoons fresh lemon juice
2 tablespoons chopped Italian parsley, for garnish
Season the steaks well with pepper.

Heat a large heavy based pan with the olive oil and butter until it is shimmering.

Add the steak and cook for about 3 to 4 minutes on each side until medium rare.

Remove from the pan and set aside.

Lower the heat to medium-low and add 3 tablespoons olive oil.

Stir in garlic and anchovy and cook until garlic is lightly golden and anchovy has dissolved into the sauce.

Stir in butter until it has melted and finally add the lemon juice.

Remove from heat and add half the chopped parsley.

Return the steaks to the pan and baste with sauce.

Transfer steaks to a plate and serve immediately, spooning the remaining sauce on top and garnishing with the rest of the parsley.

Serve with potato wedges and a side salad.