---
Grilled Steak with Basil Salsa Verde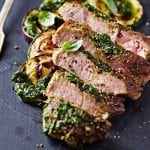 1/3 cup Italian parsley leaves
1/2 cup Basil leaves
1 tablespoon Fresh rosemary, chopped
1 Anchovy fillets
1 Garlic clove
1 tablespoon Capers in vinegar, drained
3/4 cup Extra virgin olive oil
Freshly ground black pepper
1 teaspoon Salt
1/2 Lemon
Rump steak:
3 Rump steaks
1 tablespoon Olive oil
Sea salt
Freshly ground black pepper
To make the salsa, combine, parsley, basil, rosemary, anchovy, garlic and capers in a food processor.

Pulse until ingredients are well combined.

Add olive oil, black pepper, salt and a generous squeeze of lemon juice.

Pulse until the oil is well incorporated.

Season both sides of the steaks generously with salt and pepper.

Heat a large pan over high heat.

Place the steaks in the pan.

For medium rare cook for 5 – 6 minutes, flip and cook for another 5 – 6 minutes.

Allow to rest for 10 to 15 minutes.

Slice across the grain and serve with basil salsa verde.