---
Homemade Chicken BBQ Sosaties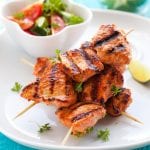 1 cup yellow mustard
1/2 cup light brown sugar
180ml cider vinegar
2 cups Clover Krush Tropical juice
1 tsp chilli flakes
1 tsp cracked black pepper
1/2 tsp cayenne pepper
1 tsp soya sauce
2 tbsp salted butter
1 tbsp Smoking Liquid or smoked salt (optional)
4 chicken thighs, deboned and chopped
Combine everything together in a heavy based saucepan except for soya, butter and smoking liquid/smoked salt.

Reduce the liquid over a medium heat for about 20 minutes.

Then add the rest of the ingredients and reduce further for another 10 minutes.

Thread deboned chicken onto skewers and season well.

Braai over medium coals. Five minutes before they're ready, start basting liberally with the BBQ sauce.