---
Lamb and Apricot Cobbler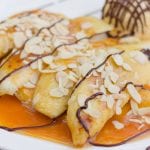 Pastry:
500ml Self Raising Flour
1 tsp Medium Curry Powder
1/2 tsp Paprika
Pinch of Salt
85g Butter
+/- 100 ml Milk
Pastry Filling:
50g Butter, softened
45ml Mrs. Balls Chutney, original
20g Sultanas or Raisins
60g KOO Apricots, drained and chopped small
20ml Coconut
Mince Mixture:
2 tbls Oil
3/4 cup Koo Cocktail Pickled Onions, drained and cut in half or normal onions can be used
1 tsp Garlic crushed
1/2 each Green Pepper, diced
15ml Medium Curry Powder
5ml Masala
1/4 tsp Turmeric
2 tbls KOO Tomato Paste
500g Lamb Mincemeat
1 tin KOO Peas, drained
125ml Lamb, Chicken or Veg Stock
2 tbls Fresh Coriander, finely chopped
1 tsp Fresh Mint Finely Chopped
Salt & Pepper
Mince: Heat the Oil in a deep saucepan, add the onions, garlic and green pepper and saute' until softened or translucent. Add the spices and the tomato paste and fry for a minute.

Add the mincemeat and cook until lightly browned. Add the stock and mix well. Adjust the seasoning with salt and pepper. Allow the mince to cook for 5 minutes

Fold in the drained Koo peas and the fresh coriander and mint, mix to combine.

Dish all the mince into a greased deep ovenproof casserole dish (one that you can use for serving). Use Spray & Cook to grease, its far less fatty than oil or butter.

Pastry Filling: Mix all ingredients together

Preheat the Oven to 180'C.

Pastry: Sift the flour, salt, paprika and curry powder together. Rub the butter into the flour with your fingertips until it resembles crumbs. Add just enough milk to form a stiff dough.

Roll out the dough on a lightly floured surface until approx. 8mm thick and into a rectangle.

Spread the filling over the rolled out dough. Roll the dough up (lengthways) like a swiss roll or pinwheel and cut into 1cm slices.

Arrange the pastry pinwheel slices on top of the mince, ensure all mince areas are mostly covered. Allow for a little space between each pinwheel for rising and expansion when baking.

Bake for 30 Minutes or until pastry slices are cooked through and golden brown.

Chefs Tip! Garnish with extra coriander. Serve with a fresh garden salad, extra chutney and chopped apricots.