---
Lamb Neck Potjie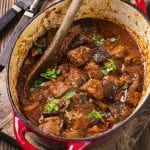 4 tbsp oil
1kg lamb neck pieces
Salt and pepper
200g baby onions, peeled and halved
1 garlic bulb, cloves separated and peeled
4 tbsp coriander seeds, roughly crushed
2 tbsp cumin seeds
2 tsp dried chilli flakes
2 tbsp tomato paste
2 sprigs rosemary
4 sprigs thyme
250ml Clover Krush Berries
250ml lamb stock
300g fingerling potatoes, halved
4 carrots, peeled and cut into chunks
30g coriander, chopped
Heat oil in a cast iron pot over the fire.

Season the lamb generously with salt and pepper, then brown in the hot oil.

Add the baby onions then cook until onions are browned.

Add garlic, coriander, cumin, chilli flakes, tomato paste, rosemary and thyme then stir and cook for a minute.

Deglaze the pot with berry juice and stock then stir again.

Layer the potatoes on top, followed by the carrots then season with salt and pepper – do not stir again

Place the lid on top then leave to simmer gently for 2 hours or until the meat is tender – test this by piercing the meat with a knife, but DO NOT stir the potjie during cooking. You may need to add extra stock during cooking.

Stir through the coriander before serving.

Serve with braai potbrood.