---
Learn how to make the perfect Latkes!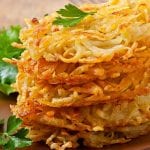 4 potatoes
1/2 onion, grated
1 tbsp v
1 egg, beaten
Salt and pepper
Sunflower oil for frying
Cinnamon sugar
Cream cheese
Fresh chopped Chives
Smoked salmon
Coarsely grate the potatoes, then squeeze out any excess liquid.

Mix potatoes, onion, matzo meal, egg and season to taste.

Heat a little sunflower oil in a frying pan. Place small mounds of mixture in the pan, fry in small batches until browned on both sides.

Drain on paper towel.

To serve, top some of the latkes with cinnamon sugar.

For the others, mix together cream cheese with chives then dollop onto the latkes and top with smoked salmon.