---
Matcha Ice Cream Sandwich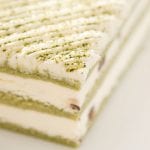 2 tbsp green tea powder (Matcha)
2 cups cream
1 tin condensed milk
1/4 cup full cream milk
50g white chocolate
135 grams icing sugar, sifted
225 grams desiccated coconut
7 egg whites
55 grams sugar
Heat the milk and whisk in the matcha powder until dissolved.

Whip the cream to soft peaks. Add the condensed milk and mix until combined. Pour in the matcha milk mixture and mix. Pour mixture into loaf tin or plastic container and freeze.

Coconut Cake

Whip the egg whites until almost fully whipped. Slowly add the sugar and whip to a stiff meringue. Remove the bowl from the mixer and add the sifted icing sugar and the coconut in two batches while gently folding. The meringue will deflate a little.

Pour the batter onto a sheet pan lined with baking paper and spread the batter evenly with an offset spatula. Bake at 180'c until light golden brown. Allow to cool.

Assemble

Cut the coconut cake in half. Spread an even layer of the matcha ice cream (slightly softened) over one half and sandwich with the other. Drizzle with white chocolate and freeze for an hour. Cut out triangles and serve.