---
Mini Pear Bundt Cakes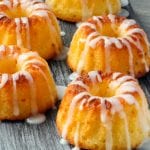 225g unsalted butter, softened
225g Selati Muscovado sugar
4 large eggs
225g cake flour, sifted
2 tsp baking powder
2 tsp ground cinnamon
2 ripe pears, peeled and chopped
For the glaze:
2 cups Selati icing snow, sifted
1 tsp ground cinnamon
About ¼ cup Milk
Preheat oven to 160 C

Grease 6 mini Bundt tins.

Cream butter and sugar until light and fluffy.

Beat in eggs, one at a time.

Sift together flour, baking powder and cinnamon then add to the wet ingredients.

Spoon batter into the tins then bake for about 30 minutes or until a skewer inserted comes out clean.

Remove from the tin and leave cakes to cool completely.

For the glaze, place icing sugar and cinnamon into a bowl, then slowly mix in enough milk until the mixture reaches the correct consistency.

Drizzle glaze over the cooled cakes.