---
---
Follow this recipe for some step-by-step instructions to make Moin Moin, a popular Nigerian steamed bean cake.
Moin Moin is a popular Nigerian steamed bean cake made from a mixture of washed and peeled black-eyed peas, onions, and ground peppers.  A protein rich staple often served at parties, dinners, and other special occasions accompanied with Jollof Rice, fried plantains, and custard.
Moin Moin, Nigerian Steamed Bean Cake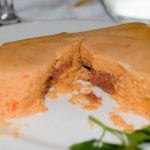 Follow this recipe for some step-by-step instructions to make Moin Moin, a popular Nigerian steamed bean cake.
1 1/2 cups black eyed beans
1/2 medium onion (chopped)
1 chopped red bell pepper
1-2 Scotch bonnet pepper
2 boiled and de-shelled eggs (sliced)
2 raw eggs
1 tablespoon ground crayfish
3 tablespoons palm oil
3 tablespoons melted butter (optional)
1 bouillon cube (Maggi)
salt (to taste)
1 cup water
Pre-soak the beans in warm water (preferably overnight)
Peel the beans by putting them into a food processor along with 2 cups warm water.
Run food processor for 3 minutes and check to make sure most of the beans are split. If not, run food processor for another couple minutes.
Transfer the beans to large bowl with water and stir bowl using your hand.
Pour the water through a sieve, collecting loose skins and repeat this process until all the separated skins are removed from the beans.
Combine beans, red bell pepper, onion and 1 cup water in a blender, blend until you have a very smooth mixture.
Pour the mixture into a large bowl. Crack 2 raw eggs into the mixture. Set aside.
Dissolve salt, palm oil, crayfish and bouillon cube in 2 tablespoons of boiling water, set aside to cool. Once cooled, add to mixture.
With a spatula or electric mixer, mix the mixture thoroughly to incorporate air into the mixture and fluff the resulting moin moin for about 10 minutes. Taste and adjust for seasoning.

Add 4 cups water to a large pot, set on high heat and bring to a boil.

Oil a loaf pan, pour half of the mixture into the loaf pan, add in the sliced boiled eggs. Pour in the rest of the mixture. Cover the loaf pan tightly with some aluminum foil.

Place the mixture filled loaf pan in the pot of water (it shouldn't be covered in water), place a tight lid over the pot and reduce the heat to medium. Steam for 45-60 minutes

Remove from heat and set aside to cool.
For more recipes like this, download our cookbook! https://demandafrica.com/25-free-african-recipes/
---