---
Mushroom & Courgette Tripe (Ulusu) Stew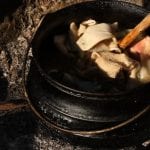 2 lbs cleaned ox tripe
1 lb bone marrow
6 cups vegetable or beef stock
3 white onions, quartered
2 carrots
2 celery sticks
3 leeks
1 cup courgettes "zucchini", cubed
1 cup brown mushrooms, sliced
2 giant garlic heads, halved
Handful of thyme
Handful of rosemary
2 tbsp black pepper
2 tbsp salt
6 tbsp vegetable oil
In a large pot, heat oil to medium temperature and sauté onions, followed by carrots, celery, leeks, garlic and herbs.

Season with salt and pepper.

Add the meat and cook for 7 minutes, stirring continually before adding 4 cups of the stock. Set remaining 2 cups of stock aside to use later.

Cover with lid and cook for 2 hours over medium heat or until meat is soft and tender. Add more stock if required.

Cook uncovered for at least 30 minutes, allowing liquid to reduce.

Add chopped mushrooms and courgettes (zucchini). Cook for another 6 minutes.

Season with salt and pepper.

Serve while hot.