---
Nutty caper buttered hake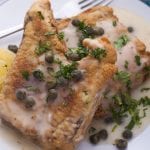 2 x 200g hake or linefish with the skin off
100g butter
30g drained and rinsed capers
1 lemon, zest and juice
120g fine beans
6 baby potatoes, halved
Season the linefish well with salt and pepper, and dust with a little flour if you would like. The flour will make it a little crispy but is not 100% necessary.

Put a small saucepan of water on the stove and bring to the boil. Add a pinch of salt to the water. When the water is boiling add the baby potatoes and simmer for 6 minutes. Add the beans and simmer for a further 3 minutes. Drain the beans and the potatoes and set aside.

While the beans and potatoes are cooking, heat the butter and the capers in a frying pan until bubbling and slightly browned. Add the fish to the pan and fry for about 3 minutes on either side. Add the potatoes to the pan and toss in the butter.

Add the lemon juice and zest to the pan too.

Place the beans on a plate and top with the potatoes and the fish. Pour the butter from the pan over the fish as a sauce and serve with wedges of lemon and a sprinkle of fresh chopped herbs.