---
---
Jabi shows us a moist & rich Orange Chocolate Cake recipe.
Orange and Chocolate are two of Jabi's mom's favorite flavors and when they're combined together they create a truly unique and out of this world flavorful cake. In this recipe Jabi takes a traditional chocolate cake and layers on homemade orange syrup before dousing the whole thing in a rich chocolate ganache. Ganache is a perfect rich compliment to a cake like this one, made simply by melting chocolate & cream in a double boiler, it's important to make sure the ganache isn't too watery so it gives the nice sticky consistency & shine that it's known for. Top this cake with the caramelized oranges from the homemade syrup and the pop of color will look gorgeous!
Orange Chocolate Cake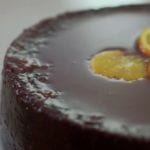 Di Ya Wela host Jabi Matsoso shows how to make a perfect Orange Chocolate cake for any occasion.
Orange Chocolate Cake:
2 cups flour
3⁄4 cups cocoa powder
1 1⁄2 tsp baking powder
2 tsp baking soda
Pinch of salt
1 cup milk
1 tsp vanilla essence
2 cups sugar
1⁄2 cup oil
1 cup boiling water
2 eggs
Zest of 2 oranges
Simple Syrup:
3 Slices of Orange
½ Cup Water
½ cup of Golden Brown Sugar
Chocolate Ganache:
¼ cup cream
¾ cup dark baking chocolate
¼ cup white baking chocolate
Preheat the oven to 355 degrees F.
Line an 8 inch round cake pan with parchment paper.
In a large bowl, sift the dry ingredients together.
Add the eggs, milk, oil and vanilla essence and beat with an electric mixer for about two minutes.
Add the boiling water and mix until combined.
Pour the batter evenly into the prepared pan and bake for 30-40 minutes.
To test if the cake is ready, insert a toothpick into the middle of the pan. If it comes out clean, the cake is ready.
While the cake is baking, make the simple syrup. Heat the water & sugar on medium heat in a saucepan until sugar has melted. Add orange slices & a squeeze of orange juice from a wedge of the remaining zesting orange. Remove the orange slices from the simple syrup and set aside.
Slide a knife around the edge of each cake to loosen it from the pan, turn the pan over onto a metal rack and peel off the paper.
Coat the cake in the orange syrup.
Melt ¾ cup dark baking chocolate
& ¼ cup white baking chocolate in a double boiler.
Stir in ¼ cup of cream & blend. Immediately pour over the chocolate cake & top with the caramelized orange slices.
---