---
Ostrich and Fennel Kofta with Crispy chickpeas, Baby Spinach and Cream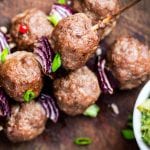 Ingredients
250g ostrich mince
2 tsp fennel seeds, roasted and ground
1 tin chickpeas, drained well on paper towel
Handful baby spinach leaves, washed well
250ml cream cheese
Salt and freshly ground black pepper
Extra-virgin olive oil
Preparation
Combine the ostrich mince and fennel and season well with salt and lots of freshly ground black pepper.

Form the mince into small bullet-shaped balls and insert 2-3 onto each metal skewer. Heat a griddle pan until smoking and grill the kofta until medium.

For the chickpeas, place on a baking sheet, drizzle with olive oil and season well with salt. Place in a preheated oven at 200C for 25-30 minutes or until golden and crispy.

Season the cream cheese well and thin out with a little water, if necessary, finish off with a drizzle of olive oil.

Arrange the koftas on a wooden board with the spinach leaves, and cream cheese dip and finish off with the crispy chickpeas.