---
Oxtail Stew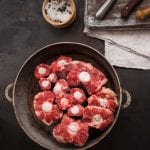 2 tbs oil
Salt and pepper
1/4 cup flour
1 kg oxtail
2 onions chopped
2 carrots, peeled and chopped
2 celery sticks
4 garlic cloves, chopped
2 tbs chopped fresh thyme
2 tbs tomato paste
250ml red wine
500ml dark beef stock, hot
1 tin chopped tomatoes
2 tbs sugar
Heat oil in a pot until smoking.

Season flour generously with salt and pepper, then use to coat the oxtail

Brown the oxtail in the oil until dark then set aside.

To the same pot, add the onions, carrots and celery then sauté until softened and beginning to brown.

Stir in any remaining flour to coat the vegetables.

Add the garlic, thyme and tomato paste then saute for a minute.

Deglaze the pan with the wine then add the stock, tomatoes and sugar before bringing to the boil.

Return the meat to the pot, cover with a lid, then simmer gently for 3 hours or until the meat is tender – add more stock/water if the liquid evaporates too quickly.

Season with more salt and pepper if necessary, then serve with mashed potatoes.