---
Peanut Butter S'mores Bars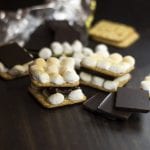 2 cups melted butter
1 cup white sugar
4 cups flour
2 cups crushed Marie biscuits
200g peanut butter
150g mini marshmallows (pink and white)
150g dark chocolate chips
Preheat the oven to 190C.

Line a rectangular baking tin (34cmX20cmX4cm) with grease proof paper, and then spray with cooking spray.

Mix together butter, sugar, flour and crushed biscuits then press into the baking tin.

Spoon over the peanut butter and spread evenly over the base.

Sprinkle with marshmallows and chocolate chips.

Bake for 15 minutes or until the marshmallows are toasted.

Leave to cool in the tin completely before slicing.

Store in an airtight container in the fridge.