---
Ramadan Recipe: Chorba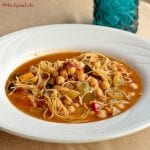 For the soup:
2-3 T extra virgin olive oil
1 large red onion, chopped
4 small red potatoes, chopped
1 medium sweet potato, chopped
2 medium zucchini, chopped
2 T chopped cilantro (I subbed flat leaf parsley)
4 large tomatoes, chopped, with juice
1 T saffron threads
6-8 cups chicken stock (low sodium if commercial)
salt and pepper to taste
1 T ground cumin
2 T ground coriander
4 cups cooked chickpeas (about 2 15-oz cans, drained and rinsed, OR if using homemade, just throw the cooking stock in and use less chicken stock)
1/2 lb dried angel hair, broken into smaller pieces
1/2 small preserved lemon, rind only, minced
juice of 1 lemon
harissa for garnish
spicy chickpeas for garnish
For spicy chickpeas:
1-2 cups cooked chickpeas
2 T harissa
fresh lemon juice to taste
3 T extra virgin olive oil
salt and pepper to taste
Heat the oil in a large pot or Dutch oven.

Add the onions with a pinch of salt and cook over medium heat, stirring occasionally, until softened and golden, about 7 minutes.

Add the potatoes and sweet potatoes with a pinch of salt. Toss to stir.

Let fry, stirring every 3-4 minutes, for 10 minutes.

Add the zucchini and chopped cilantro with a pinch of salt.

Cook, stirring, for 2-3 minutes. Add the tomatoes, saffron and chicken stock.

Add less chicken stock if you are using homemade cooked chickpeas with the cooking broth.

Use more if you are using canned chickpeas.

Bring to a boil.

Add the chickpeas (with cooking liquid if you cooked them), cumin, coriander, minced preserved lemon peel and angel hair.

Let simmer briskly or boil gently to blend the flavors and cook the pasta, about 20 minutes.

Season with the fresh lemon juice and salt and pepper to taste before serving.

Serve with harissa and spicy chickpeas on the side.
To make the spicy chickpeas:
Either cook chickpeas or drain and rinse canned chickpeas.

Toss with the harissa and extra virgin olive oil.

Then toss in lemon juice to taste (start with 1 tablespoon or 2) and salt and pepper.

Let rest.

For more recipes like this one, be sure to check out The Spiced Life: http://bit.ly/1K4r0Vv