---
Roasted Apricot Pancake Stack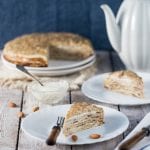 1kg fresh ripe apricots, halved and pitted
1 tbsp Selati Demerara sugar
1 vanilla pod, seeds scraped
2 tbsp Maple syrup
1 tbsp fresh thyme leaves
4 1/2 cups milk
1 vanilla pod (use pod scraped from the apricots)
3 eggs
1 cup Selati castor snow
21/2 tbsp flour
21/2 tbsp corn flour
Half of the roasted apricots, pureed until smooth
21/2 cups milk
4 eggs
2 tbsp canola oil
22/3 cups cake flour
Selati Icing Snow to dust
Preheat oven to 180 ̊C.

In a bowl, toss together apricots, Demerara, vanilla seeds, maple syrup and thyme then place into a roasting dish in one single layer.

Roast for 25 minutes or until the apricots have softened, remove from the oven and leave to cool to room temperature.

For the filling, Place milk and vanilla pod into a pot and bring to the boil.

In a bowl, whisk together the eggs, sugar, flour, corn flour

Pour the boiling milk into the egg mixture, while continuously whisking.

Return mixture to the pot and cook on medium heat until the mixture thickens.

Remove from the heat, discard the vanilla pod then stir in the pureed apricots.

Cover with cling film and leave to cool completely at room temperature.

For the pancakes, whisk together the milk, eggs and oil.

Slowly whisk in the flour to form a thin, smooth batter.

Heat a lightly greased pan then add a ladle of batter.

Lift and tilt the pan to spread batter around pan.

Cook on one side until bubbles form on the surface.

Flip over and cook on the other side for a minute.

To assemble, place a pancake onto a cake stand, then spread over some filling, top with another pancake, then spread with more filling – repeat until all the filling and pancakes are used up (the stack should end with a pancake).

Arrange the remaining roasted apricots on top, then dust with Icing sugar before serving.