---
Samp, Beans and Aubergine Bobotie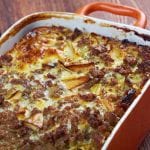 410g Koo Samp & Beans, (Curry or original)
50ml Vegetable oil
300g Onions, chopped
20g Garlic, minced
30ml Mild curry powder
15ml Turmeric powder
400g Aubergine (eggplant/brinjal), chopped/cubed
2 Lemons, juice and zest
60ml Mrs Balls Chilli Chutney
3g Salt
3ml Black pepper
6 Eggs, lightly beaten
500ml Milk
14 Bay leaves
50ml Fresh coriander, chopped
Preheat oven at 180°C.

Heat oil in a frying pan and sauté the onions until softened.

Add in the garlic and cook for 2 minutes, then add in the curry powder, turmeric powder, aubergine, lemon juice, zest, chutney and seasoning.

Add in the samp and beans and mix well.

Adjust seasoning.

Grease a casserole dish and pour the samp and beans mixture into the dish.

Whisk the eggs and milk together and pour over the samp and beans mixture.

Garnish with bay leaves and bake for 30- 40 minutes or until mixture is golden brown and set.

Serve bobotie warm and garnish with fresh coriander.