---
SASSI Green Listed Hake and Rosemary Pie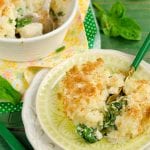 1kg potatoes, peeled and chopped into large chunks
3 tbsp butter
600g Fresh Hake
1 tablespoon rosemary, finely chopped
5 sprigs of rosemary
3 cups apple juice
150g cold butter, cubed
Salt & pepper to taste
Place the potatoes in a large pot of boiling water and cook until soft.

Mash the potatoes then mix with 3 tablespoons butter and rosemary and season to taste.

Pre-heat the oven to 200°c.

To make the fish pie, poach the fish in the apple juice with sprigs of rosemary. When the fish is cooked, remove the fish and flake into large chunks.

Reduce the poaching liquid to ¼ of its quantity after poaching (roughly 1/2 a cup). Remove from the heat and slowly whisk in butter until emulsified. Remove rosemary sprigs.

Place the fish into a large oven proof dish. Add the fish and pour over poaching liquid.

Top the fish filling with the mashed potato and create indents with a spoon which will become nice and crispy in the oven. Brush with more butter.

Place the pie in the oven and allow to bake for 20-30 minutes until the top is golden brown and crispy. Remove from the oven and allow to cool for 10 minutes then serve.