---
---
Di Ya Wela host Jabi Matsoso shows how to make an easy sausage roll recipe to fill perfect puff pastries, creating irresistible mince pies.
For a savory and easy treat that's crunchy, flaky & fun to eat turn to this recipe for Sausage rolls. Covered in perfectly golden baked pastry dough, these sausage rolls are truly delicious. Jabi just knows these treats are sure to impress & are easy to accomplish, so her cousin truly feels confident cooking for her date. She knows they're going to love them!
Sausage Rolls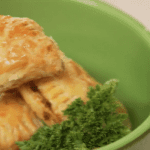 Jabi shows us how to make delicious sausage rolls to create the perfect Mince Pie.
1 lb 16 oz pork breakfast sausage, minced (16 links)
1/2 cup finely minced onion
2 teaspoons minced fresh thyme
1 teaspoon minced fresh sage
1/4 teaspoon crushed red pepper
Puff pastry (thawed)
Preheat oven to 355 degrees F.
Add oil to a medium hot skillet & add onions & sugar until onions are translucent. Add minced sausage & spices to your taste preference. Fry until nicely brown & golden.
Thaw puff pastry & cut out circles with round cookie cutter or small bowl/mug.
Spoon small amounts of the sausage mix into the puff pastries, fold in half & seal along the edges.
Whisk one egg & brush along the sides of the pastries. Transfer the pastries to a buttered baking sheet & bake until golden brown, about 25 minutes.
---