---
---
Let's talk about Jollof Rice.  What is it?  Why are we talking about it? What's the right version?
Jollof Rice is a common rice dish prepared in many West African countries.  There are as many variations as there are regions who make it, but the basics are rice, tomato, onions, and (depending on where you're having it, of course) a million-and-a-half variations of spice blends.
There's an age-old debate over who originated the dish and whether it was Nigeria or Ghana who created and has the most authentic Jollof Rice. Both regions can trace the origins back very far and both make their own stellar-and-very-authentic version of the dish.  With so many variations of the dish, who can pinpoint the original?!
While on a personal journey to better his skills, Africa on a Plate chef Lentswe Benghu developed an original recipe to pay homage to one of West Africa's most popular dishes. He adds grilled prawns to the dish to create something truly different.  His version Seafood Jollof Rice captures the true nature of Jollof Rice: it's variations!
Make your own and let us know how it turned out!
Seafood Jollof Rice with Pan Seared Prawns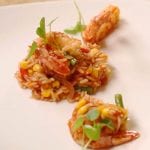 1 cup Long Grain Rice
4 cups Water
1 cup Green Beans (top & tailed)
1 cup Corn Kernels
1 Red Pepper (sliced)
4 tbsp Olive Oil
½ Onion (sliced)
2 Garlic Cloves (minced)
2 tbsp Store Bought Seafood Rub
1 tbsp Tomatoe Paste
2 tins Chopped Tomatoes
½ cup Vegetable Stock
2 whole Habenero
1 Red Chilli
2 tbsp Salt
Prawns
6 Medium Prawns (de-shelled)
4 tbsp Olive Oil
2 tbsp Salted Butter
1 tbsp Salt
1/2 Juice of lemon
Cook the rice, water and salt in a medium pot over simmering temperature till rice is al dente. Cool and set aside.
Over high heat sauté the onions in oil with garlic and the seafood rub till soft.
Reduce to medium heat and add the tomato paste followed by the chopped tomatoes. Stirring continuously.
Add the vegetable stock, habanero, followed by the red chili and simmer for 15 minutes.
Whilst simmering, in a separate pan over high heat. Flash fry the de-shelled prawns in oil and finish off with knobs of butter and a squeeze of lemon juice.
Lastly add the prawns, the remaining vegetables along with the rice to the pot and cook further for 4 minutes till rice and vegetables are warm.
Season to taste with salt & pepper.