---
---
This oxtail stew is a hearty stew completed by South Africa's signature wine, Pinotage.
It's believed by lovers of deep red wines that Pinotage can pair well with many types of food. The more full-bodied Pinotage pairs with red meats, barbecued and grilled dishe, and oysters, while the more medium Pinotage would be considered a good pairing for fish dishes, sushi, and soups.  It's only a natural conclusion that Pinotage would make it's way into key ingredients for a stew.
This recipe for oxtail stew will need to simmer in your slow cooker for several hours, but the result is PERFECTION!
Slow Cooker Pinotage Oxtail Stew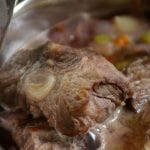 Since Pinotage is native to South Africa, it would only be fitting to show how this special wine completes a South African oxtail stew as an ingredient. The oxtail stew is also called "potjiekos" by the locals.
1 whole oxtail (cut in large chunks)
½ cup Coke
½ cup Pinotage wine
1 teaspoon salt
1 teaspoon pepper
1 teaspoon paprika
1 quart water
1 packet dry brown onion soup
2 cubes beef stock
4 teaspoons olive oil
4 medium onions (chopped)
Heat large pot on medium-high heat.
Add oil and onions and fry for 5 minutes until onions are browned on edges.
Add oxtail a few pieces at a time and allow to brown on all sides.
Add salt, pepper, and paprika. Mix well.
Add cola and wine. Let simmer for 5 minutes.
Place the ingredients in a slow-cooker.
Break up beef stock cubes into the pot. Add soup powder and ½ cup water. Stir.
Cover and let simmer on low for 10 to 12 hours. Check water level after 4 – 5 hours, add more if necessary.
---