---
Spiced Apple Custard Tarts with Streusel Topping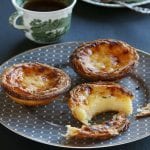 1/2 cup cold butter, diced
1/2 cup white sugar
1/2 CUP Demerara sugar
2/3 CUP cake flour
1 TSP ground cinnamon
1/2 tsp ground nutmeg
500ml milk
1 cinnamon stick
1 star anise
3 whole cloves
6 egg yolks
120g castor sugar
25g plain flour
25g corn flour
1/2 cup apple sauce
Pinch nutmeg
Pinch cinnamon
400g ready rolled puff pastry
Tinned baby apples with the stem
180g white chocolate, melted
Edible gold dust or glitter (optional)
Preheat oven to 200C.

Make the streusel topping by rubbing together the butter, sugars, flour, cinnamon and nutmeg until crumbly.

Scatter mixture onto a tray then bake for about 15minutes or until the mixture is crispy and golden.

Set aside to cool.

Combine milk, cinnamon stick and star anise and scald over low heat.

In a bowl, mix together egg yolks, castor sugar, flour and corn flour.

Remove spices then pour hot milk into the egg mixture while whisking.

Pour mixture back into the pot and cook over low heat, while stirring, until the custard thickens.

Remove from the heat and stir in the apple sauce, nutmeg and cinnamon.

Set aside to cool.

Reduce oven temperature to 180C then grease a muffin tin

Roll pastry out then cut out pastry circles, big enough to line the muffin tin.

Press pastry into the tin to form a pastry case.

Spoon in the custard then bake in the oven until the pastry is golden and the custard is burnished on the top.

Remove from the oven and leave to cool to room temperature before serving.

Drain and dry the baby apples, then dip halfway into the white chocolate before leaving to set.

Once the chocolate is set, paint the chocolate gold or dust with glitter.

To serve, place the tarts on a cake stand or platter, then top with the streusel.

Finish with a golden apple on the top.