---
Spicy Chinese Eggplant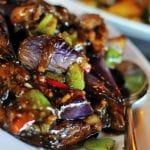 4 eggplant cut into wide wedges
5 shallots, finely sliced
1 tsp garlic, minced
1 tsp red chilli sauce
2 tbsp soya sauce
1 tsp molasses
1 tsp white vinegar
1 tsp corn flour
1/2 tsp Demerara sugar
2 tbsp sesame oil
1/2 cup Clover Krush Orange juice
1/2 cup water
1 small bunch of coriander leaves
Black pepper to taste
Heat oil in a large pan and when it starts to smoke, add the eggplant in 2 batches, frying until sticky and brown. Add salt and pepper to this, drain and set aside

In the same pan, add a few more drops of oil if required and fry the shallots until soft. To this, add the red chilli sauce and minced garlic and sauté until soft

Meanwhile, mix the soya sauce, molasses, vinegar, corn flour, sugar, orange Juice and water to make the spicy sauce

Add this to the shallot mixture and cook on medium-high heat until it starts to bubble and reduce by half.

Tip in the fried eggplant and mix well until the sauce coats the eggplant. Season with black pepper to taste.

Garnish with chopped coriander leaves, toasted sesame seeds and serve hot with rice.