---
Steak with Mushrooms and Buffalo Mozzarella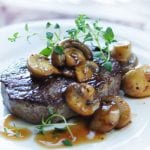 1 pack Mature Thick Cut Beef Sirloin Steaks (Avg 650g)
2 tbsp extra virgin olive oil, plus extra, for brushing
1/4 cup sage leaves, for frying
60g unsalted butter
250g Brown mushrooms, sliced thick
sea salt and cracked black pepper
250g Fresh Fior Di Latte Mozzarella Cheese, torn
1/2 bunch sage leaves, roughly chopped
2 tbsp sea salt flakes
To make the sage salt, place the sage and salt in a food processor and process until combined. Set aside.

Heat the oil in a large frying pan over high heat. Add the sage leaves and cook for 1 minute or until crisp. Drain on paper towel. Add half the butter, mushroom, salt and pepper to the pan and cook, stirring occasionally, for 4–6 minutes or until golden. Set aside and keep warm.

Brush the steaks with olive oil and season thoroughly with salt and freshly ground black pepper. Place the steak in a med-high heated pan with the other half of the butter, turning regularly and spooning over the butter for 7-10 minutes or until cooked to your liking. Allow to rest for 10 minutes, covered with foil.

Top with the Fior Di Latte mozzarella, mushroom, crispy sage and sage salt. Serve with roasted baby potatoes.